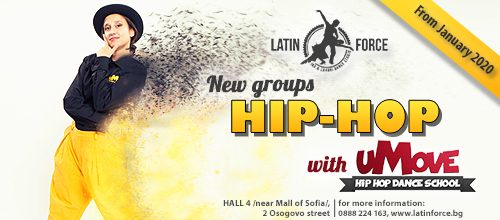 Become part of one of the most FUNKY schools for Street Styles in Bulgaria – uMove!
On January 22, 2020, you can join one of the new hip-hop groups in the newly opened Latin Force halls near Mall of Sofia, where you will dive yourself into the comfort and modernist vision of the dance halls of the future!
It does not matter if you are an amateur or enthusiast and have some previous dance training, and for the younger emerging hip-hop stars (aged 6-12), there is a separate group which will be given special attention.
What will you learn? You will find out that what makes uMove different is that they are among the first to introduce the styles teaching or, in other words, you will learn what's behind the words hip-hop, popping, locking, house, waking, wogging and b-boying.
New children's group (6 – 12 years)
Start: January 22, 2020
Schedule: Wednesday and Friday from 19:00 – 20:00h
New group for beginners
Start: January 22, 2020
Schedule: Wednesday and Friday from 20:00 – 21:00h
We are expecting you at the following address: Hall 5 (near Mall of Sofia, opposite to Vazrazhdane Park) – Sofia, 2 Osogovo Street. Map and photos of the hall.
Price: a single visit – 8 leva, with a monthly card for 8 visits – 56 leva, no extra charge with Andjoy App and MultiSport cards.
We train with comfortable clothing and a second pair of clean shoes.
At your disposal are: 3 halls with a dancing area of 250 square meters, 40 meters total length of mirrors, 4.25 meters high ceiling, avant-garde resting zone, professional sound system, multimedia projectors, wireless microphones, professional ventilation and air conditioning Toshiba, Free Optical Wi-Fi – 200 Mbps, changing rooms, 4 toilets, showers, avant-garde waiting area, a modern interior decorated by leading designers!
For registration you need to fill in the registration form HERE
For questions and more information, please feel free to contact us by e-mail at latinforcebg@gmail.com or call the following phone numbers:
+359 88 7437375 – Zahari

+359 88 8224163 – Ina
You can join the event at Facebook HERE 🙂